Additional information – BSI Temporary-Immersion Bioreactors
BSI Bioreactor – Basic
Insert
Polyester screen mesh (can be customized)

Shell
H: 6 1/4"

Ø: 7 ¼"

Fully transparent biocompatible polycarbonate

Autoclavable for 40'

Snug lid fit

Robust construction with few parts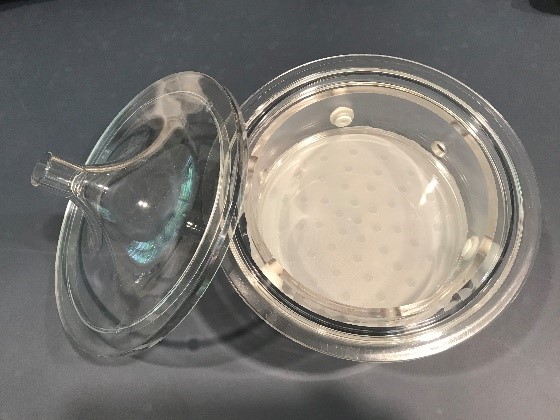 BSI V-Germination Bioreactor – Plants

Insert
30 (+) tubes for propagules (more dense tube-grids available)

Shell
H: 6 1/4"

Ø: 7 ¼"

Fully transparent biocompatible polycarbonate

Autoclavable for 40'

Snug lid fit

Robust construction with few parts
For larger models, see Scalable Bioreactor Facilities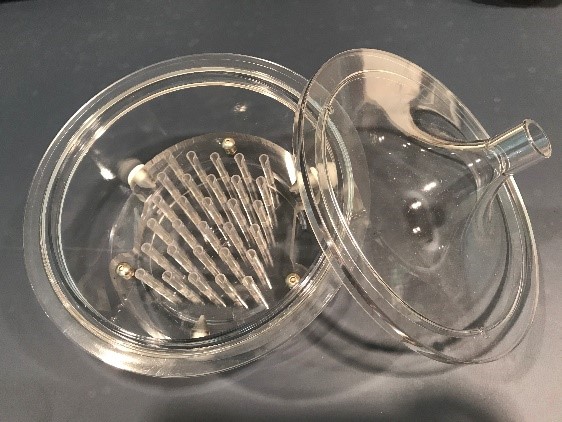 The bioreactors are sold in sets of eight. Each set contains eight complete bioreactor shells with inserts and caps for medium bottles, necessary tubing for a standard set up of eight bioreactors on a shelf*, one each of: air filter for the main supply line, pressure gauge, solenoid valve, digital timer, 8-split manifold.
The following is not included in the set: pressurized air source, 16 air vents (0.2 or 1 µm), eight 500 ml bottles.
Price quotations are given upon requests. Discounts are available for academic and other non-profit research institutions.
To obtain pricing, please Contact Us with the following information:
Type of organization: for-profit , non-profit , non-profit and educational, or Government

If you have pressurized air in your facilities

Power: 120V or 220V

How many bioreactors you are considering (normally we provide groups of 48)
BSI can provide installation and full training for bioreactor operation.